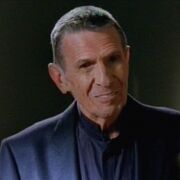 William Bell was a prominent scientist and entrepreneur during Earth's 20th and 21st centuries. He was best known for his founding of Massive Dynamic, a company devoted to technological innovations for the benefit of humanity. Three centuries later, Rhys Darcen considered Bell one of the leading visionaries of that era.
While Darcen was reading Bell's biographical file, Ileana Roshanak remarked that Bell resembled Federation Ambassador Spock. Darcen did not see such a resemblance. ("Star Trek: Lambda Paz: "A Cause of Greater Worth")
Meant as an inside reference to Leonard Nimoy's character on Fringe.
External links
Edit
Ad blocker interference detected!
Wikia is a free-to-use site that makes money from advertising. We have a modified experience for viewers using ad blockers

Wikia is not accessible if you've made further modifications. Remove the custom ad blocker rule(s) and the page will load as expected.