Tales of the Seventh Fleet

episode
"Upgrade"
Episode no.:
02
Prod. code:
002
Airdate:
May 30, 2005
Writer(s):
Daniel A. Swift
Eugene R. Hendricks
Director:
Thomas Hendricks
Guest star(s):
David M. Fricke
TJ Longo
Matthew J. Grieco
Thomas Hendricks
Story year:
2296
Stardate:
TBD
episode chronology
Previous episode:
"Return to Doomsday"
Next episode:
"A Touch of Home"
"Upgrade" is the first episode with the new backgrounds, hence the title of the episode and the reason to have the background story cover the reasons for the new graphics. It is episode #02, and was first broadcast on May 30, 2005 at the Morris County Public Library. It was written by Daniel Swift and Eugune Hendricks, and directed by Thomas Hendricks (no relation). The computer's voice was provided by Alycia Gerben.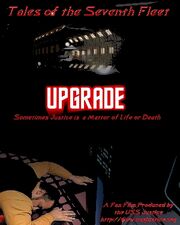 The USS Justice is under going refit, but a saboteur is on the loose! A mysterious disease has been released and has already claimed one important person's life. The crew is in serious danger. Can the Captain, Commander Stoeffles and Dr. Lupia find a cure in time to save the Justice and Starbase 24 from infection?
Memorable quotes
Edit
"You're making that up! There's no regulation on that."
— Engineer Lupia to Stoeffles
"Germ warfare?! Oh yuck!"
— Engineer Viktor Pima to self.
Background information
Edit
A Helm Console was built for the final scene and will be used in future episodes.
Doctor Hopler's body is actually the actor who plays The Efrosian Captain.
The actress who plays Enigma wasn't in this episode much because she was recovering from giving birth to her first child.
This was Eugene Hendricks first attempt at editing an episode. His dog, Thor, is given assistant editor credits.
External links
Edit
Ad blocker interference detected!
Wikia is a free-to-use site that makes money from advertising. We have a modified experience for viewers using ad blockers

Wikia is not accessible if you've made further modifications. Remove the custom ad blocker rule(s) and the page will load as expected.