Ad blocker interference detected!
Wikia is a free-to-use site that makes money from advertising. We have a modified experience for viewers using ad blockers

Wikia is not accessible if you've made further modifications. Remove the custom ad blocker rule(s) and the page will load as expected.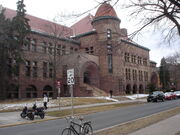 The University of Minnesota is a state university system founded in the 19th century in Minneapolis, Minnesota. It had five in-person campuses extant in the 24th century, in the cities of Crookston, Duluth, Morris, Rochester and the Twin Cities.
For what will follow, the Twin Cities campus (Lyran classification: research university) is assumed.
It was founded in 1853, and, over the next few decades, it opened a law school, a medical school and a dental school, and evolved to become a major research university. It was also famous for its hockey team, the Golden Gophers. (Star Trek: False Vacuum: "Asteroid Dusting")
The main in-person campus was separated in three areas: East and West Banks, as well as St. Paul. Faith Kingsford turned down Minnesota for Concordia University because of the substandard nightlife in Dinkytown and the substandard journalistic education provided at Minnesota. (Star Trek: False Vacuum: "Pothole Omnium")
Dunames Lopez turned down an offer from Minnesota to play basketball there, also turning down Columbia University, University of Maryland and University of Chicago, ultimately attending the Catholic University of Leuven. (Star Trek: False Vacuum: "Dear Sixteen-Year-Old Me")
Pedicord Apartments was a permanent exhibit at the Weisman Museum since at least the 1990s, which was university-operated. (Star Trek: False Vacuum: "Scrap Yard Vegas")
External links
Edit