To Serve All My Days (Phase II episode)
Talk

0
Star Trek: Phase II

episode
"To Serve All My Days"
Episode no.:
2
Prod. code:
004
Airdate:
October 2006
Writer(s):
D.C. Fontana
Director:
Jack Marshall
Guest star(s):
Walter Koenig
Story year:
22xx
Stardate:
unknown
episode chronology
Previous episode:
"In Harm's Way"
Next episode:
"World Enough And Time"
While the Federation faces economic devastation, Chekov succumbs to a disease that causes him to rapidly age.
Memorable quotes
Edit
Background information
Edit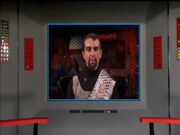 This was the first episode of Star Trek: New Voyages to be filmed in 16x9 widescreen. It was also the first episode of the series to have its own musical score.
A brand new opening titles sequence was designed for this episode.
At the end of the episode a "Next Voyage" section was included featuring a trailer for "World Enough and Time".
"To Serve All My Days" sparked some controversy over its apparent violation of official Star Trek canon. In response to the uproar, James Cawley posted this on the STNV discussion forum:
This episode and its successor are available as a Rifftrax commentary under the Rifftrax Presents line of commentaries.
External link
Edit