Ad blocker interference detected!
Wikia is a free-to-use site that makes money from advertising. We have a modified experience for viewers using ad blockers

Wikia is not accessible if you've made further modifications. Remove the custom ad blocker rule(s) and the page will load as expected.
For the mirror universe counterpart, see Tim Samuel (mirror).

Tim Samuel was the Chief Engineer for the USS Yorktown (NCC-208) and later captain of the Discovery.
Starfleet Service
Edit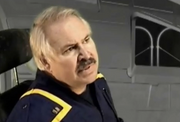 He helped in the first testing of the Warp 5 engine with
Jonathan Archer
and
Trip Tucker
. He and Trip had a close bond in the academy and in the Warp 5 testing program, often trying to "OUT-DO" the other on technical achievements. Tim has also worked with Styles for the last 3 years on board the
Intrepid
.
Samuels was considered a leading expert on space-tested technology and sometimes relates better to technology than people. After serving on the USS Yorktown (NCC-208) for 2 years, he was headed to extended shore leave with his girl friend; Monica McDonald aboard the NES Avalon which stuck a gravitic mine. Samuels and McDonald contained the warp core breach and were deemed "Hero of the Avalon". However, McDonald did not survive when she received a lethal dose of Delta Radiation from the leaking core. Samuels received burns to his arms but later recovered and promoted to Captain and given Command of the Discovery. (Star Trek: The Romulan Wars)