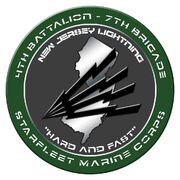 The Starfleet Marine Corps Seventh Brigade, Fourth Battalion was an element of the Starfleet Marine Corps in Starfleet International. Its jurisdiction corresponded to the state of New Jersey.
Appendices
Edit
Background information
Edit
In 2385, the 4th Battalion's OIC is General Bob Vosseller.  The DOIC is Colonel Brian A. Crist and the SGM is Gunnery Sergeant Brent Henry.
Currently, the 4th Battalion is Deactivated.
Units assigned
Edit
United Federation of Planets Starfleet Marine Corps battalions
1 Bde, 1 Bn • 1 Bde, 2 Bn • 1 Bde, 3 Bn • 1 Bde, 4 Bn • 1 Bde, 5 Bn • 1 Bde, 6 Bn • 1 Bde, 7 Bn • 1 Bde, 8 Bn • 2 Bde, 1 Bn • 2 Bde, 2 Bn • 2 Bde, 3 Bn • 4 Bde, 1 Bn • 4 Bde, 2 Bn • 4 Bde, 3 Bn • 4 Bde, 4 Bn • 5 Bde, 1 Bn • 5 Bde, 2 Bn • 5 Bde, 3 Bn • 5 Bde, 4 Bn • 6 Bde, 1 Bn • 6 Bde, 2 Bn • 6 Bde, 3 Bn • 6 Bde, 4 Bn • 6 Bde, 5 Bn • 6 Bde, 6 Bn • 7 Bde, 1 Bn • 7 Bde, 2 Bn • 7 Bde, 3 Bn • 7 Bde, 4 Bn • 7 Bde, 5 Bn • 7 Bde, 6 Bn • 9 Bde, 1 Bn • 9 Bde, 2 Bn • 9 Bde, 3 Bn • 13 Bde, 1 Bn • 13 Bde, 2 Bn • 13 Bde, 3 Bn • 13 Bde, 4 Bn • 15 Bde, 1 Bn • 15 Bde, 2 Bn • 15 Bde, 3 Bn • 15 Bde, 4 Bn • 15 Bde, 5 Bn • 15 Bde, 6 Bn
External link
Edit