Star Trek: Valkyrie
Talk

0
11,795pages on
this wiki
Star Trek: Valkyrie
is an audio series set in the
late 23rd Century
aboard the
Constellation-class
starship
USS Valkyrie (NCC-2590)
. It is a production of Glass City Communications based in Toledo, Ohio, USA. The show's premise is summed up in the introduction delivered after the teaser in each episode: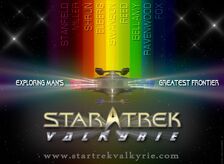 These are the adventures of the crew of the Starship Valkyrie. In peace time or war time, its mission is the same as all of Starfleet, to seek out new life and new civilizations, to preserve the peace and protect the Federation, to brave the unknown in Man's Greatest Frontier...
The pilot episode "New Command" was released in June 2012 and eight subsequent episodes have been produced to date. These can be heard on the series website and YouTube Channel.
Main cast
Edit
The show features a main cast of characters as well as various guest characters, including some from other fan productions.
Audio episodes
Edit
Season 1
Season 2
All episodes can be found on the series website or YouTube Channel.
Production
Edit
External links
Edit