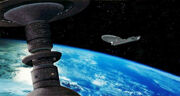 Star Trek: Incident at Beta 9 is a Star Trek fan film set in the mid-23rd century.
The USS Hannibal is ordered to explore a remote section of Federation space along the Neutral Zone. A Rogue ion storm traps two officers on an unknown planet called Beta 9. To make matters worse, two Klingons have arrived. One is a fugitive, the other a deadly assassin. Both are determined to protect a vital secret that could determine the fate of the entire Klingon race. Also a new energy vortex forms when planet Odin II vanishes and almost destroys the USS Aristarchus in the process.
External links
Edit
Ad blocker interference detected!
Wikia is a free-to-use site that makes money from advertising. We have a modified experience for viewers using ad blockers

Wikia is not accessible if you've made further modifications. Remove the custom ad blocker rule(s) and the page will load as expected.