You may also be looking for Star Trek: Horizon (2008).

STAR TREK FAN FILM
Star Trek: Horizon
Format:
YouTube
Star Trek: Horizon is a fan film developed by Project [N] ReSource Films, set in the Star Trek: Enterprise era. It was promoted to be released on February 28th, 2016, but was decided to be released two days prior after pre-screen backers began sharing their links publicly. [1]
The Coalition of Planets, at war with the Romulan Empire, forms an alliance with T'mar, a Romulan deserter, in the hopes that she can provide valuable intelligence on her former masters.
Main cast
Edit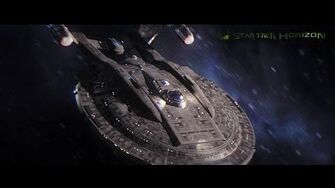 External links
Edit
Ad blocker interference detected!
Wikia is a free-to-use site that makes money from advertising. We have a modified experience for viewers using ad blockers

Wikia is not accessible if you've made further modifications. Remove the custom ad blocker rule(s) and the page will load as expected.