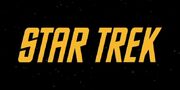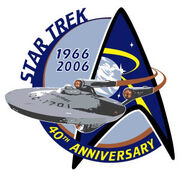 Star Trek is a science-fiction franchise comprising six television series and ten films, plus numerous books, comics, games and collectibles, owned by Desilu Studios, Paramount Pictures, Viacom and CBS-Paramount.
The name "Star Trek" is also the original name of the first television series, referred to as Star Trek: The Original Series (or TOS in fan circles, to avoid confusion with the other series).
Canon series
Edit
Canon films
Edit
External links
Edit
Ad blocker interference detected!
Wikia is a free-to-use site that makes money from advertising. We have a modified experience for viewers using ad blockers

Wikia is not accessible if you've made further modifications. Remove the custom ad blocker rule(s) and the page will load as expected.