Star Trek: Phase II
Talk

10
11,795pages on
this wiki
STAR TREK FAN FILM
Star Trek: Phase II
Author(s):
Several
Format:
Several
Star Trek: Phase II (formerly known as Star Trek: New Voyages) is a live-action fan film series created by Jack Marshall and James Cawley in April 2003, and funded by James' career as an Elvis tribute artist (voted #1 in the country by Elvis' personal associates in 1996) as well as original producer Jerry Yuen of Jack Marshall's "Cow Creek Films" production company. In addition to Cawley Entertainment Company, a volunteer troupe of fans formed Retro Film Studios, LLC to help continue the project. The series picks up where The Animated Series left off, filming season 5, and putting new actors into the original series roles.
This production has the blessing of Eugene Roddenberry, Jr (Gene Roddenberry's son) and operates under Paramount's radar, as long as they make no money from the production. Several actors who once appeared on the original Star Trek series have appeared in this production including Eddie Paskey and John Winston, who both guested in "Come What May". In addition, former Star Trek: Communicator editor and current Star Trek Magazine contributor Larry Nemecek has had roles in "Come What May", "To Serve All My Days" and the recently-released "Vignette" episode "No-Win Scenario".
Central characters
Edit
The series currently features the central characters of the USS Enterprise as well as several recurring characters. When other stories are added the cast will grow.
Enterprise crew
Edit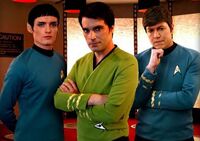 Ensign Peter Kirk Played by Bobby Quinn Rice ("Blood and Fire, Part 1" onwards)
Lt. Sentell Played by Jeff Mailhotte
Lt. Commander Prescott Played by Paul R. Sieber ("Kitumba" onwards)
Lt. Joesph Kyle Played by Jay Storey
Episode listing
Edit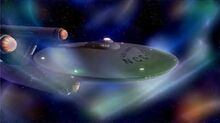 Vignettes
Edit

These vignettes were to be released in a staggered schedule but the remainder have been scrapped. This is, according to producer/"Kirk" actor James Cawley, due to the poor quality of the footage compared to the high definition episodes now being released. It was only due to the efforts of Phase 2 actor/stunt coordinator John Carrigan (with assistance from Graham O'Hare, and Pony R. Horton) that "No-Win Scenario" was completed and released in 2011, some six years after it was filmed.
Rebranding to Phase IIEdit
During an appearance at the Farpoint Science Fiction Media Convention in Baltimore, Maryland on 16 February 2008, James Cawley announced a rebranding of New Voyages to become Star Trek: Phase II. The renamed series will continue to follow the remaining two years of James T. Kirk's original five-year mission, while bridging the gap between the three seasons of the original Star Trek television series and Star Trek: The Motion Picture.
External links
Edit