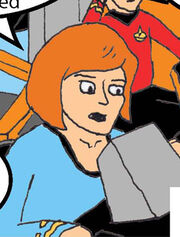 Sarah McHugh is a science officer in the federation star fleet. She was raised in a quiet farm town in Ireland but had dreams of exploring the galaxy. She entered Starfleet as a scientist and by 2266 she had the rank of Lt. Cmdr. And was the science officer on the USS Bismarck under Commodore Shrelic. She is very calm and passive for the most part but can have quite the temper. (Star Trek: Eagle)
Ad blocker interference detected!
Wikia is a free-to-use site that makes money from advertising. We have a modified experience for viewers using ad blockers

Wikia is not accessible if you've made further modifications. Remove the custom ad blocker rule(s) and the page will load as expected.