Ad blocker interference detected!
Wikia is a free-to-use site that makes money from advertising. We have a modified experience for viewers using ad blockers

Wikia is not accessible if you've made further modifications. Remove the custom ad blocker rule(s) and the page will load as expected.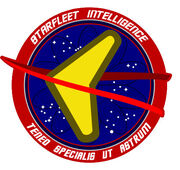 Richard Delgadillo
is a
Captain
and is the Commanding Officer of the Directorate of Clandestine Services (DCS) at
Starfleet Intelligence
(SFI)
. Known affectionately by most of his staff as "Captain D", he is a rugged military man to the core. He is regimented and disciplined. His military experience has taught him to rely on hunches and intuition in the field: as a result, he is frequently at odds with
McGivers
and
Meyers
. He has never failed to accomplish his mission and most consider him to have been a "shoe-in" for the Director's job. But unlike Meyers, he is rather happy not to have been chosen for the position.
External links
Edit
Official website