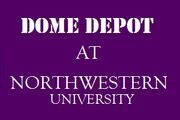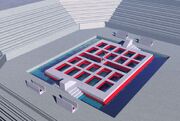 Northwestern University (Lyran classification: research university), colloquially known as Northwestern, NU or NWU, is a research university in Evanston, Illinois, founded in the 19th century. It had a law school and a medical school.
The NWU Wildcats were one of the few Federation university-operated hussade teams, and graduate students routinely filled its roster. Its hussade team was generally regarded as weak by Lyran standards (and Kzinti standards as well), even when comparing NWU to other university teams. The Wildcats played their home games at the Dome Depot.
Estelle Chanteclerc played as a rover there while enrolled in a physics PhD. The Wildcats' purple hussade uniforms featured purple skin-tight tank tops and purple shorts (for male players) or skirts (for female players) that famously showed the right thigh in front only and left both shoulders fully exposed, all of which had white linings. (Star Trek: False Vacuum: "Thesis Dilemma")
External links
Edit
Ad blocker interference detected!
Wikia is a free-to-use site that makes money from advertising. We have a modified experience for viewers using ad blockers

Wikia is not accessible if you've made further modifications. Remove the custom ad blocker rule(s) and the page will load as expected.