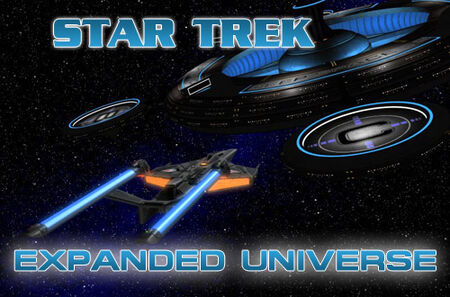 Welcome to the Star Trek Expanded Universe,
the wiki encyclopedia for Star Trek fan productions!
——— There are 13,133 articles on this wiki. ———
Warning: This wiki contains spoilers.
"Since before your sun burned hot in space, I have awaited a question."
— The Guardian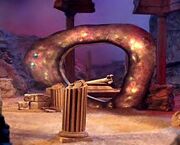 The device known as the Guardian of Forever is an artifact of an ancient alien race (most likely the Guardians), which functions as a time portal, located on the planet Gateway. The Guardian is apparently sentient; it can speak and responds to the questions and actions of individuals who come in contact with it. It generates immense ripples in time that manifest themselves as spatial disturbances in the surrounding region (perhaps shielding its planet and star system from changes in the timeline). (TOS: "The City on the Edge of Forever")

Apparently an inert formation of a quasi-metallic substance, the Guardian is neither machine nor being, describing itself as "my own beginning, and my own ending." It has the ability to create portals to other times, which can be watched or traveled through.

Featured article archives • Nominate a featured article
"Personal log, stardate 61125.8: I am the storm-tossed man, but unlike the great Odysseus, I've got thousands of Trojans at my back, marooned in this strange place. How long will we wander before we find our way home? Will Corey be there? Will he recognize me? I have to try. I owe it to the crew. I never thought I would pray to a Prophet, and yet I find myself calling to Prophets so far away. May the wind be at our backs, vigor in our hearts, and luck on our side. And so the journey begins."
— Lt. Commander Ro Nevin, thrust into command of the USS Odyssey (Star Trek: Odyssey:"Iliad")
Tip: Sign up or Log in to view Star Trek Expanded Universe with less ads. For no ads, go to Preferences > Appearance > Layout, and change to MonoBook.
Ad blocker interference detected!
Wikia is a free-to-use site that makes money from advertising. We have a modified experience for viewers using ad blockers

Wikia is not accessible if you've made further modifications. Remove the custom ad blocker rule(s) and the page will load as expected.