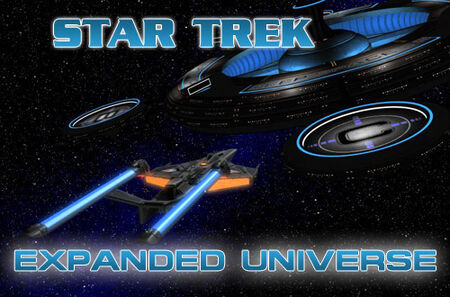 Welcome to the Star Trek Expanded Universe,
the wiki encyclopedia for Star Trek fan productions!
——— There are 13,081 articles on this wiki. ———
Warning: This wiki contains spoilers.
The USS Cantabrian (NCC-24705) was an Excelsior-class. From 2369 until 2373, her commanding officer was Captain Noah Wrightson. (Star Trek: The Cantabrian Expeditions)

The USS Cantabrian replaced the Constitution (Enterprise refit)-class USS Cantabrian (NCC-607). Commissioned on 6 February, 2314, the first commanding officer of this Cantabrian was Captain Thekla Lawless.

In 2315, the Cantabrian crew made first contact with the Kaartali, who were so impressed with Lawless that, on several occasions, they specifically requested the Cantabrian in their dealings with the Federation.

Captain Lawless retired in 2330, leaving the Cantabrian after 16 years. (Star Trek: The Cantabrian Expeditions: "The Fire In Which We Burn")

Captain Jack Annand took over from Lawless in the same year, claiming he had "big shoes to fill". He successfully commanded the Cantabrian until he mysteriously disappeared in 2341. (Star Trek: The Cantabrian Expeditions: "The Stars Fill The Sky, So In Love With You Am I")

Featured article archives • Nominate a featured article
Tip: Sign up or Log in to view Star Trek Expanded Universe with less ads. For no ads, go to Preferences > Appearance > Layout, and change to MonoBook.
Ad blocker interference detected!
Wikia is a free-to-use site that makes money from advertising. We have a modified experience for viewers using ad blockers

Wikia is not accessible if you've made further modifications. Remove the custom ad blocker rule(s) and the page will load as expected.