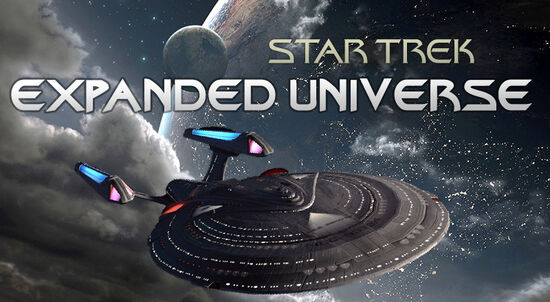 Welcome to the Star Trek Expanded Universe,
the wiki encyclopedia for Star Trek fan productions!
——— There are 12,937 articles on this wiki. ———
Warning: This wiki contains spoilers.
"Prophets, give strength to those who are on this long journey home, and give us the ability to persevere over the coming months and years. May we not stray from the ideals that we hold true, and may we one day see our loved ones again. The journey ahead of us is one that we will take, for what choice do we have. May our strength never wane, and may our ship still hold fast, and may we return home one day."
— Lieutenant Drash Elia. (Star Trek: Helen: "The Omega Directive")
Tip: Sign up or Log in to view Star Trek Expanded Universe with less ads. For no ads, go to Preferences > Appearance > Layout, and change to MonoBook.