Welcome to the Star Trek Expanded Universe,
the wiki encyclopedia for Star Trek fan productions!
——— There are 13,443 articles on this wiki. ———
Warning: This wiki contains spoilers.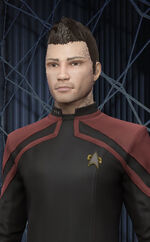 Night was the Trill host joined to at least three Trill symbionts in his lifetime: First, the Gotens symbiont, as Night Gotens, then, the Xen symbiont, as Night Xen, and finally, against his will, the Seifer symbiont, as Night Seifer. He served as a Starfleet first officer and then commanding officer aboard the USS Phoenix-X in the late 24th century. During his joinings, he was most commonly known by his symbiont (last) name. (Star Trek: Phoenix-X)

Featured article archives • Nominate a featured article
Tip: Sign up or Log in to view Star Trek Expanded Universe with less ads. For no ads, go to Preferences > Appearance > Layout, and change to MonoBook.