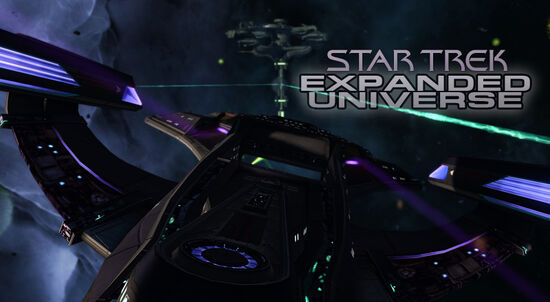 Welcome to the Star Trek Expanded Universe,
the wiki encyclopedia for Star Trek fan productions!
——— There are 13,364 articles on this wiki. ———
Warning: This wiki contains spoilers.
"Progress comes at a price, but the time will always come that the price is too high for some, while we look out to that next star; we sometimes forget those that we leave behind. This Federation was not formed on the principles of war, but on peace and exploration."
— Rachel Covaks after being promoted, Star Trek: Constance, To Boldly Go
Tip: Sign up or Log in to view Star Trek Expanded Universe with less ads. For no ads, go to Preferences > Appearance > Layout, and change to MonoBook.
Ad blocker interference detected!
Wikia is a free-to-use site that makes money from advertising. We have a modified experience for viewers using ad blockers

Wikia is not accessible if you've made further modifications. Remove the custom ad blocker rule(s) and the page will load as expected.