Legion of Merit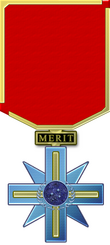 Type
Medal
Awarded for
"service rendered in a clearly exceptional manner"
Status
Currently awarded
Award Order of Precedence
The Legion of Merit is a military decoration of the Federation armed forces that is awarded for exceptionally meritorious conduct in the performance of outstanding services and achievements. The decoration is issued both to UFP military personnel and to military and political figures of foreign governments.
External links
Edit
Legion of Merit article at Wikipedia, the free encyclopedia.