Ad blocker interference detected!
Wikia is a free-to-use site that makes money from advertising. We have a modified experience for viewers using ad blockers

Wikia is not accessible if you've made further modifications. Remove the custom ad blocker rule(s) and the page will load as expected.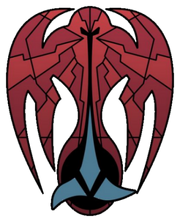 In the mirror universe, the Klingon-Cardassian Alliance was the historic union of the Klingons and the Cardassians, two former enemies, in the face of aggression from the Terran Empire in the 23rd century. The Klingons agreed to this Alliance following the explosion of Praxis (The Sorrows of Empire, The Final Days). Following a series of reforms by Spock, the leader of the Empire, the Alliance conquered the Empire, enslaved Terrans and Vulcans, and became the dominant power throughout most of the 24th century. A Regent led the Alliance, delegating authority to various Intendants who administered individual sectors of Alliance territory.
Bajor became a sovereign planet in the Alliance by the late 24th century, after the Alliance liberated Bajor from the Terran Empire. In the latter half of the 24th century, a Terran rebellion against the Alliance was created due to interference from individuals from the primary universe. (DS9: "Crossover")
A few centuries before the 27th century, the Klingon-Cardassian Alliance was fallen to the Terran rebellion. The rebellion eventually destroyed the Klingons and Cardassians, and evolved into the Second Terran Empire.
In the late 24th century, the Terran rebels created a new empire, called the Imperial Union of Planets, and conquered the Klingon-Cardassian Alliance by 2385.
In 2382, five ships from the Klingon-Cardassian Alliance were endowed with enhanced weapons, shields, and structural integrity by the mirror-Pah'Wraith, who were trapped within an ion storm, and who had decided to take a more active role in the struggle for power in the mirror-Alpha Quadrant. Oddly, their bestowing of enhanced ship-power didn't end with the Alliance, as they also enhanced the ISS Descent from the Terran Empire. Only months later was the Descent's abilities taken away as a show of complete political support for the Klingon-Cardassian Alliance. ("Rising Empire", "Darkened Soil")
In 2410, following incursions into the prime universe by the Terran Imperial Starfleet, the USS Bajor traveled into the mirror universe and allied itself with the Klingon-Cardassian Alliance for the duration of the mission. The Bajor's Captain Kanril Eleya traded Federation anti-cloaking techniques to the Alliance with the goal of evening the odds between them and the Empire. (The Wrong Reflection)
External links
Edit