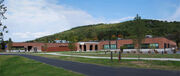 Kinda Sorta College was a college (Lyran classification: master's university) extant on Sabzevar Colony in 2385. By 2402, it became an university and was henceforth renamed Kinda Sorta University.
Mandy Guilmain made her pre-medical education at KSC, matriculating in 2385, when KSC had 17,000 students, and describing it as a subprime college back then. Her sisters, Cindy and Sandy, attended pre-dental school and pharmacy programs respectively, while Sandy was the only one to graduate from KSC, earning a Doctor of Pharmacy. Also, Peokaa considered Kinda Sorta University as a backup to Braytac University while Katola received a free application from KSU. (Star Trek: The Stoneship Files: "Educational Armageddon")
Ad blocker interference detected!
Wikia is a free-to-use site that makes money from advertising. We have a modified experience for viewers using ad blockers

Wikia is not accessible if you've made further modifications. Remove the custom ad blocker rule(s) and the page will load as expected.