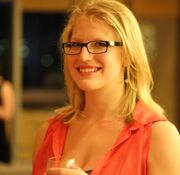 Joanie Martineau was a character in a Klingon holodeck program.
In 2401, while Mrazek and his lackeys captured an orbital communications relay in orbit above Du'Qot, a frontier world of the Klingon Empire, they found an holographic program where the 2012 Quebec tuition crisis was used as the setting, Tuition Crisis, of which Joanie was a then-holographic character that debated the tuition crisis with her 2401 look-a-like. (Star Trek: The Stoneship Files: "Rode the 300")
Background
Edit
She is a photomanipulation model that was, at the time of the production of Star Trek: The Stoneship Files, a pure mathematics student at the University of Montreal, portraying Lieutenant junior grade Urie, a damage control team leader on the Stoneship (BC-347), as well as her own hologram. She even had courses with Yvan Ung prior to the production of Star Trek: The Stoneship Files and went to the March 22nd, 2012 mega-protest in Montreal.
The undergraduate mathematics and statistics student association (AEMSUM), of which she was the external VP at the time of the production of Star Trek: The Stoneship Files (and the 2012 Quebec student strike), only went on strike for three days, whereas the PHYSUM voted an unlimited general strike, ultimately lasting ten weeks.
Both Joanie and Yvan graduated in winter 2013 with a honors degree. For the 2013-2014 academic year, Joanie was the finance vice-president of the FAÉCUM.
Academic background
Edit
Ad blocker interference detected!
Wikia is a free-to-use site that makes money from advertising. We have a modified experience for viewers using ad blockers

Wikia is not accessible if you've made further modifications. Remove the custom ad blocker rule(s) and the page will load as expected.