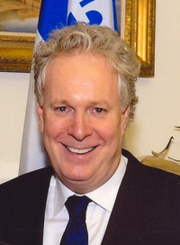 Jean Charest was an human politician. He was the Prime Minister of Quebec in early 2012, responsible for the 2012 Quebec student strike by enacting a $1,625 tuition hike.
The final boss of Super Mario Br'Hausse was a genetically modified Bowser with Charest's head. (Star Trek: The Stoneship Files: "Chronicles of Taladu")
Background
Edit
He served three terms as Prime Minister (or Premier) of Quebec at the head of the Quebec Liberal Party (PLQ), from 2003 until September 4th, 2012, losing his re-election bid because of the student strike's consequences, a strike that lasted nearly 7 months and involved more than 300,000 students at one point. He has since returned to lawyer practice, working in a major law firm in Montreal as of 2013.
He is also used as a photomanipulation model for Nelvaan, the flight controller of the USS Antechrist, in Star Trek: False Vacuum.
External link
Edit
Ad blocker interference detected!
Wikia is a free-to-use site that makes money from advertising. We have a modified experience for viewers using ad blockers

Wikia is not accessible if you've made further modifications. Remove the custom ad blocker rule(s) and the page will load as expected.