James Cawley is the Senior Executive Producer and original creator of the fan film series Star Trek: Phase II.
James Cawley was born June 23, 1967 in Ticonderoga, New York, USA. Cawley was a big fan of Star Trek at a young age, and loved watching re-runs of Star Trek: The Original Series. When he got older, James decided to make his own Star Trek series, a continuation of the five-year mission, which evolved into Star Trek: New Voyages.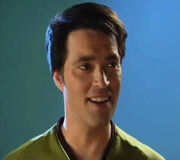 He portrays Captain James T. Kirk in the series and provides many of the costumes and props from himself and other fans. He also played Mackenzie Calhoun in the Star Trek: Hidden Frontier episode "Vigil", and in Star Trek: Of Gods and Men portrays Commander Kirk, James Kirk's nephew.
James is an actor, producer, costume designer, casting director and production designer. He has also acted in Starship Farragut'.
James Cawley was pronounced the best James Kirk fan film portrayed in Toyfare magazine.
His favorite Star Trek era is that of the original series.
He works as an Elvis impersonator,
Filmography
Edit
External link
Edit