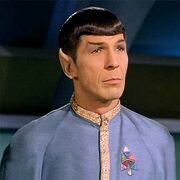 On ships, the first officer is the second-in-command, acting out the captain's orders and advising him or her. In Starfleet, this function is usually accompanied by the rank of commander or lieutenant commander. First officers may also be referred to as executive officers.
The first officer is nominally responsible for the smooth running and organization of a ship or starbase, and will often be head of his/her own Executive Department/Division, whose officers and crew - primarily with the yeoman designation - manage many of the day-to-day administrative tasks for the XO. (The Exec. Dept. would, for instance, provide the captain with a personal assistant).
Notable First officers
Edit
External links
Edit
Ad blocker interference detected!
Wikia is a free-to-use site that makes money from advertising. We have a modified experience for viewers using ad blockers

Wikia is not accessible if you've made further modifications. Remove the custom ad blocker rule(s) and the page will load as expected.