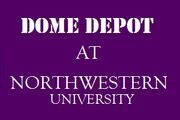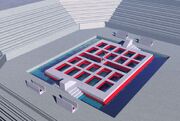 The Dome Depot was the home hussade pitch of Northwestern University, located in northeast Chicago. As its name indicated, the Dome Depot had a retractable, domed roof and had a capacity of 8,000.
Estelle Chanteclerc had a vision of herself as being so dominant in the Federation university hussade circuit that she would earn the nickname of "Goddess of the Dome Depot", given her academic prowess relative to other hussade players at her skill level. (Star Trek: False Vacuum: "Thesis Dilemma")
Production notes
Edit
The Dome Depot was named after the vendor of "do-it-yourself" real estate blueprints in Core-Exiles intended for use in building rooms for settlements.
Ad blocker interference detected!
Wikia is a free-to-use site that makes money from advertising. We have a modified experience for viewers using ad blockers

Wikia is not accessible if you've made further modifications. Remove the custom ad blocker rule(s) and the page will load as expected.