Ad blocker interference detected!
Wikia is a free-to-use site that makes money from advertising. We have a modified experience for viewers using ad blockers

Wikia is not accessible if you've made further modifications. Remove the custom ad blocker rule(s) and the page will load as expected.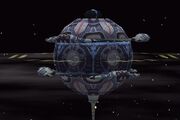 Deep Space I-94 was a starbase located at the border of the Hydran Kingdom with the Interstellar Concordium. As such, it held key to the defenses of the Kingdom, with the starbase always holding a garrison. Its garrison was also a heavy consumer of alcohol, like Hydran wine. (RIS Bouteina: "Party School", "Dr Jekyll and Dr Hyde")
Production notes
Edit
The Starbase 94 that appeared in Spoiled Rotten was later considered as being the same as Deep Space I-94.