For other meanings of "Christchurch", see Christchurch (disambiguation).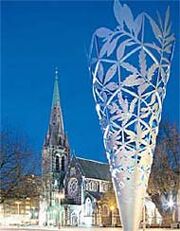 Christchurch was the most populous city on the South Island of New Zealand and the second most populous city in the country behind Auckland.
Christchurch was also known as "the Garden City" for its large, spacious park areas dotted throughout the city, dedicated to recreational activities. It was also home to the University of Canterbury.
In early September 2010, Christchurch was struck by a large earthquake, damaging many heritage buildings to the point where they needed to be demolished, but no life was lost. Nearly 3 out of every 5 homes was damaged or destroyed. This was followed by further devastating earthquakes in February, June, and December 2011, the first of which caused 185 deaths and led to most of the central city being demolished and entire suburbs abandoned. The city rebuilt.
Noah Wrightson was born in Christchurch, which he described as "very English". (Star Trek: The Cantabrian Expeditions)
External links
Edit
Ad blocker interference detected!
Wikia is a free-to-use site that makes money from advertising. We have a modified experience for viewers using ad blockers

Wikia is not accessible if you've made further modifications. Remove the custom ad blocker rule(s) and the page will load as expected.