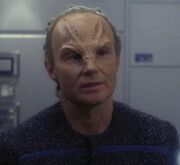 Chef
is a term commonly used to refer to an individual who cooks professionally. Within a restaurant however, chef (French for chief or head) is often only used to refer to one person: the one in charge of everyone else in the kitchen. This is usually the executive chef.
In Star Trek: Remington continuity, Starfleet chefs held the rating of culinary specialist.
Notable Chefs
Edit
External links
Edit
Ad blocker interference detected!
Wikia is a free-to-use site that makes money from advertising. We have a modified experience for viewers using ad blockers

Wikia is not accessible if you've made further modifications. Remove the custom ad blocker rule(s) and the page will load as expected.