Ad blocker interference detected!
Wikia is a free-to-use site that makes money from advertising. We have a modified experience for viewers using ad blockers

Wikia is not accessible if you've made further modifications. Remove the custom ad blocker rule(s) and the page will load as expected.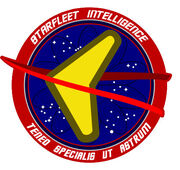 Cecelia 'CeCe' Rodgers
is a
Lieutenant Commander
assigned to the Office of Public Affairs (OPA) division of
Starfleet Intelligence
. Affectionately known as "George" by her colleagues, CeCe is a very competent officer. There is practically no task she can not accomplish (hence the nickname from the phrase, "Let George do it"). CeCe is the Director of the Office of Public Affairs. (
Star Trek: SFI
)
The OPA is the official spokesperson for SFI. CeCe reports directly to the Director of SFI, providing public affairs support and acting as senior adviser for media and public policy issues. She oversees the daily operations of communicating with the media, the general public, and SFI's workforce.
As a result, she knows both Nick Spencer and Jack Nolen very well. She has had to "spin" events on more than one occasion, and she is one of the very few that know almost everything
External link
Edit