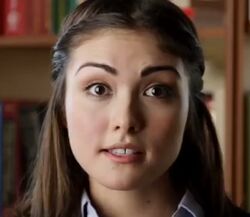 Carrie Quendelton was a Malachorian dental student at Quendelton State University enrolled in 2415.
She worked part-time at the Fair Business Lyran Agency to cover the cost of dental school and she was the agent that made public the complaint lodged against Chloe Galarza for her proposed real estate project. In addition, she fought Anastasia Volzhin, a fellow Imperial Stormtrooper Marksmanship Academy failure, in a disruptor duel held on the campus of Quendelton State, and neither were able to hit the broad side of a barn at point-blank range with a MD-11 disruptor rifle. (Star Trek: False Vacuum: "Asteroid Dusting")
Ad blocker interference detected!
Wikia is a free-to-use site that makes money from advertising. We have a modified experience for viewers using ad blockers

Wikia is not accessible if you've made further modifications. Remove the custom ad blocker rule(s) and the page will load as expected.