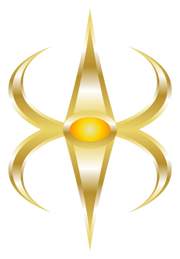 The Breen Confederacy was the government of the Breen species. The capital of the Confederacy was on the planet Breen. (DS9: "'Til Death Do Us Part")
The Confederacy was ruled by a council that met in the "Hall of Heroes" in the city of Pela Tarem. In times of war the council appointed a tha'thot or supreme commander to head the combined military effort of the Breen states. (The Dominion War Sourcebook: The Fires of Armageddon)
In the continuity established by the Pocket Books novels, the Breen were actually a group of several species, and the government was led by the Breen Domo.
In 2375, the Confederacy allied with the Dominion and entered the Dominion War. (DS9: "Strange Bedfellows")
In late 2381, the Confederacy signed a non-aggression pact with the So'ja Coalition, and joined in the fight against the United Federation of Planets in the Coalition War. (Star Trek: Pioneer: "Everything Changes")
Breen states
Edit
External links
Edit
Ad blocker interference detected!
Wikia is a free-to-use site that makes money from advertising. We have a modified experience for viewers using ad blockers

Wikia is not accessible if you've made further modifications. Remove the custom ad blocker rule(s) and the page will load as expected.