Ad blocker interference detected!
Wikia is a free-to-use site that makes money from advertising. We have a modified experience for viewers using ad blockers

Wikia is not accessible if you've made further modifications. Remove the custom ad blocker rule(s) and the page will load as expected.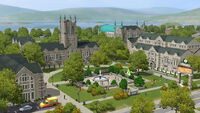 Braytac University (Lyran classification: research university) was a Rakellian university on Adeptus IV. Like all Rakelli universities, passage of the Matura was required for undergraduate admission.
Cindy Guilmain graduated from Braytac University's dental school; Peokaa wanted to attend Braytac University to do forestry engineering while Katola wanted to enroll in industrial design. (Star Trek: The Stoneship Files: "Educational Armageddon")
Braytac University was a school whose status among the Lyran "best-and-brightest" wasn't exactly the highest, but high enough to carry some weight. (Star Trek: The Stoneship Files: "Post-Apocalyptic Education")
Braytac University's film school was renowned to be harder to get in than University of Queensland's Rupert Murdoch School of Film and Television. (Star Trek: The Stoneship Files: "Generational Ghosts")