Captain William (Bill) Styles was the Commanding Officer of the USS Yorktown (NCC-208) during the Earth-Romulan War
Personal life
Edit
Oldest of three brothers. Divorced from his wife Wendy and had a young son named Kyle. His brothers Brian and Justin are all from a strong Command background.
Star fleet service
Edit
Bill Styles served on the Intrepid Class starship Intrepid. In an early battle with the Romulans , the Captain of the Intrepid was killed and, Styles took command and returned the ship safely to Earth.
Bill Styles is a pacifist by nature – use of force only when necessary. He takes a different tact to most problems and is good with people. He doesn't have the same command style as his brothers. Styles has to prove something to himself – he is driven by this need. He is, in his own mind, in a competition with his brothers to prove that he is as good in a command situation and can live up to his family's tradition of strong, reputable leaders. Bill can best be described as an "reluctant hero," especially after the incident on the Intrepid, where he had to take over the CO's position. Command does not come naturally to Bill.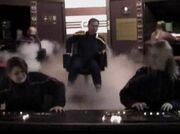 Bill is not aggressive enough for command, or at least he thinks that - initially. He is not always sure / confident enough. His lack of confidence is reinforced by a mistake he made which led to the death of his CO on the Intrepid. He has never forgiven himself. He has a lot of self doubts and is always trying to measure up – especially to his brothers. The need to succeed has driven his family apart (both his wife and his brothers and father).
Bill dearly loves his ex-wife and son. He needs strong friends to rely on for emotional and moral support. Bill is very technical minded – could substitute as Chief Engineer if he needed. Bill has a keen sense of what to do, even though it falls outside the box of normal thinking.
Styles is also a student of history, especially of the wars of the ancient world (Rome, Greece, Alexander the Great, etc.), as well as the American Revolutionary War and the American Civil War. This serves him well in understanding his enemy and devising new ways to fight an unknown enemy. (Star Trek: The Romulan Wars)
Ad blocker interference detected!
Wikia is a free-to-use site that makes money from advertising. We have a modified experience for viewers using ad blockers

Wikia is not accessible if you've made further modifications. Remove the custom ad blocker rule(s) and the page will load as expected.