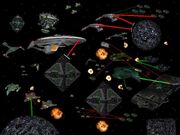 The Battle of Gateway was a massive battle between Alliance forces and the Borg. The battle proved the Borg were once again a central power in the galaxy after their apparent defeat at the Borg Elimination Incident. (Star Trek: Unity (fan film series))
The battle itself, centered around Unity One Starbase in the Gateway system lasted on and off for almost four weeks. The Borg laid siege to the base, but were unaware of Unity's Iconian stargate, from which hundreds of reinforcements and fighters came through. Around 4000 vessels were involved, over three quarters of which were destroyed.
Participating starships
Edit
Starfleet
Klingon Defence Force
Romulan Star Empire
Rakelli
and Unity One Starbase.
Ad blocker interference detected!
Wikia is a free-to-use site that makes money from advertising. We have a modified experience for viewers using ad blockers

Wikia is not accessible if you've made further modifications. Remove the custom ad blocker rule(s) and the page will load as expected.