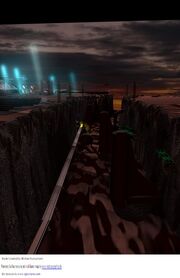 Ares City
was the capital city of the
Martian Colonies
. (
TOS
novel:
The Captain's Daughter
)
Star Trek Star Charts asserts that Utopia Planitia is the capital.
Nikolai Barstow was born there in 2229 (Star Trek: Shadowstar Station), and Hayden Pope was reportedly born there in 2269. (Star Trek: Avenger: "Belonging")
The target of the first attack of the Caine was the government building of Ares City. (Dimensional Prophecy of Zohar)
External link
Edit
Ares City article at Memory Beta, the non-canon Star Trek wiki.