The
742nd Marine Strike Group
was a
marine strike group
embarked on the
Prometheus-class
tactical cruiser
USS Asimov-A
during at least the last quarter of the
24th century
.
(Citation needed)
The nickname for the 742nd was "The Silent Service." The unit motto was Inflictum everbero, inflictum sepius (English: Hit 'em hard, hit 'em often).(Citation needed)
Appendices
Edit
Background information
Edit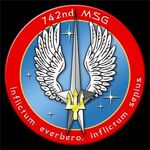 742nd Marine Strike Group was also a fan group.
External link
Edit
Region 7 STARFLEET - Reaction to the Shuttle Columbia Disaster - 01 February 2003
Ad blocker interference detected!
Wikia is a free-to-use site that makes money from advertising. We have a modified experience for viewers using ad blockers

Wikia is not accessible if you've made further modifications. Remove the custom ad blocker rule(s) and the page will load as expected.