The 726 Marine Strike Group is a unit of the STARFLEET Marine Corps a department of STARFLEET the International Star Trek Fan association.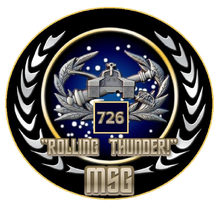 The 726th is an Armor unit attached to the USS Storm, 4th Battalion, 7th Brigade. It's current OIC is Col Kenneth Kadin, its DOIC is Tim Riess and its SGM is Mike Sladky.
Unit nickname is "Rolling thunder"
Unit motto is "To ensure peace, you must prepare for war."
The unit has 100 members broken into three groups, Scout, Armor, and APC.